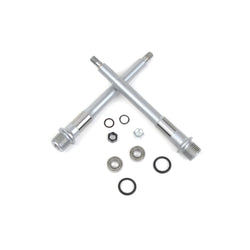 Replacement axle kit for Scarab (2014 and newer), Contact (2017 and newer), and all Dagga, Synth & Pilot pedals. 
Have you tried simply taking apart your pedals, cleaning and re-greasing? Our bushings and bearings last a long time, usually a quick re-build can solve most of your problems without the need to replace any parts!
Axle Kit Includes Replacement:
Axles
Bushings
Bearings
Lip Seals
Pedal End Caps
Detailed instructions can be found here. We have listed ways to perform the service with tools you may already own, but it's whole lot easier to change the bushings with the correct tools.
These axle kits are for Gen 3 pedals only. 
This means Contacts that are 2017 and newer or Scarabs that are 2014 or newer.
All iterations of Synth, Dagga, Pilot BA and Pressure pedals use the G3 axle.
Take a look at page 2 of the instructions for help identifying your axle generation for Contact and Scarab.
We don't have axle kits for older pedals, but if you contact us we'll be able to help.